How to draft basic body sloper
Instructor :
Savitha
Skill Level :
Beginner

00:12:25
Views (6805)
Rating
(12)
Class Description
We have lots of free tutorials to help you start your journey in the world of sewing. The classes are designed to help beginners to comfortably start sewing your own clothes. With our free tutorials you can learn from using the sewing machine to completion of a garment. Also learn making bolero jacket with invisible seams, salwar pants, attaching zipper, plackets and many more.
There are classes on tips and tricks of sewing which would help you to sew in an easy and professional way.
In this class, learn application of measurements. Learn to draft the basic body sloper using the body measurements you have taken.
While drafting the body sloper, apply the measurements that you have.
Class details
| | | |
| --- | --- | --- |
| Class 1 - Drafting body sloper | | 00:12:25 |
Please login to submit your questions
Q : Hello mam... I want to learn kurti pattern in detail.. how to calculate armhole and sleeves drafting..so can u help me in this ? which paid tutorial i have to do then ?
- Mestry (1 month ago)
A :
Hi,
Armhole and sleeves drafting is shown in our free tutorials. If you have not yet watched our free classes, you may start with the FREE BEGINNERS COURSE under ONLINE CLASSES - BUNDLE DEALS. After that you may start with the Kurthis foundation course Class 1 - How to give darts in a garment.
Q : Hi Savita, I have been trying to draft the pattern for kameez and sleeve but I am finding it difficult to fit the sleeve into the armhole because the sleeve is too big. I have adjusted the chest line but it still does not work. Please could you take a look at the images.
- FARIDA DEDAT (2 months ago)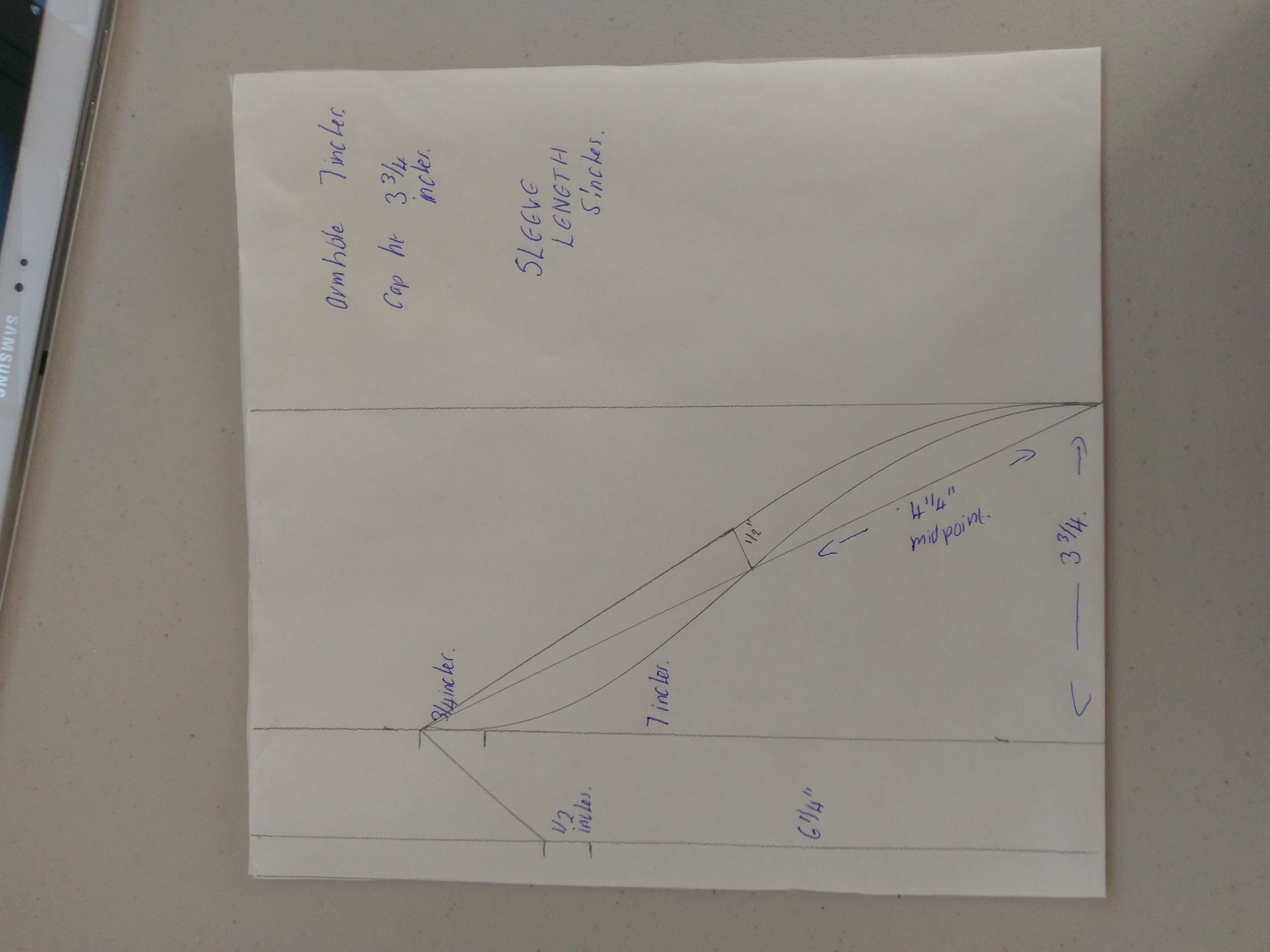 A :
Hi,
Always after drafting the body pattern, measure the front and back armhole curves and see if it matches with the body armhole measurement plus ease given on chest. If less/more, shift the chest line down/up and redraw the curves. After that draw the sleeves pattern and again measure the front and back curves and see if it matches with the body pattern. If less/more, increase/reduce the ease and redraw the curves. The way you have drafted looks fine, however, you may need to increase or decrease the ease to match with the body pattern.
Q : My armhole round is 17.5". My shoulder is 15". I am finding half armhole from shoulder slope down 8.75" is too big? Can you please correct me?
- Rozmina (3 months ago)
A :
You need to apply 1/2 of your arm round measurment [biceps] not armhole.
Q : What is the paper used to drafting?
- Bhuvana (3 months ago)
A :
It is called pattern paper. It is similar to brown book binding paper [without laminate] but longer and wider. You may buy these pattern sheets on our website under SUPPLIES section. The link is here: https://www.savisfashionstudio.com/cart/search/6af41e6d694fb34289a68121e2651f3c
However, you can also use any other paper for drafting the pattern. If the paper is not wide and long you may join two or three sheets using cello tape.
Q : Hi, Thank you very much for your prompt response. Bust round of the Dummy is 40 Inches.
- SUNNY MANGLICK (4 months ago)
A :
You are welcome.
The arm round would be approximately 13.5" and armhole 17.5". Sleeve length is 5- 6" and sleeve open can be kept at 12.5".
Q : Hi Savi, How are you doing? Recently i have Join you Online classes and they are very interesting and easy to learn. I have a Question regarding the Chest Line marking. In your video you have explained that Chest line half of the Arm Round measurement. Now i am making a Pattern for a Kurti and i have taken the measurement of the Dummy/ Dress Form. In Dummy we don't have the Arms in it. So i dont have Arm Round measurements & Sleeves Length Opening Round with me. In this case how we will calculate and mark the Chest line?
- SUNNY MANGLICK (4 months ago)
A :
Hi, thanks for your appreciative words.
This is not a real life scenario, however please let me know the bust round of the dummy. Based on that will tell you the approximate arm round measurement.
Q : I made this for measurements where bust size was 32. The fron neck gaped at the center by 1 inch. It could be because of the hollow chest. The neck deep was normal like 5". How could I have rectified this before hand ? You suggest taking in 3/4 inch at armroundline . Had I taken in by 1-1.5 inches would this resolve the issue ? Please let me know.
- Diya (4 months ago)
A :
Hi,
Are you sure the neckline isn't stretched which may be causing the gaping? If that is the reason, an easing stitch at the neckline [as shown in our free class on fixing a stretched neckline] should resolve the issue.
3/4" is the standard we take at mid armhole which suits most women. However, if when you see the person you are making the garment for has a shoulder more bent towards the front [which may cause a hollow chest] you may need to take some additional measurements like the front measurement from chest centre to mid armhole of one side by which you will know if you need to change the 3/4".
FAQ'S
1] How do I enroll for premium classes?
Click on the class you wish to take and 'ADD TO CART'. You would need to SIGN UP/LOGIN if you have not yet done. Then 'CHECKOUT' and select the payment method. Give your payment details and once the payment is successful, you would have access to the class.
2] I have paid for a class, now how do I view it?
Login and click on 'My courses' on top. That will show you the number of classes you have taken. Click on the class you wish to learn from.
3] How do I ask questions if I need any clarification regarding the premium class?
Click on the Q & A tab below the video, type in your question and submit. We will reply at the earliest. When you receive the reply you will get a notification alert and the reply will be below your question under the respective class.
4] What is the validity of a premium class?
The validity of the class is 1825 days that is approximately 5 years from the date of enrolment. You will be able to view the class any number of times, any time of the day and on any suitable device, within this validity.
Students Who Viewed This Class Also Viewed
About the Instructor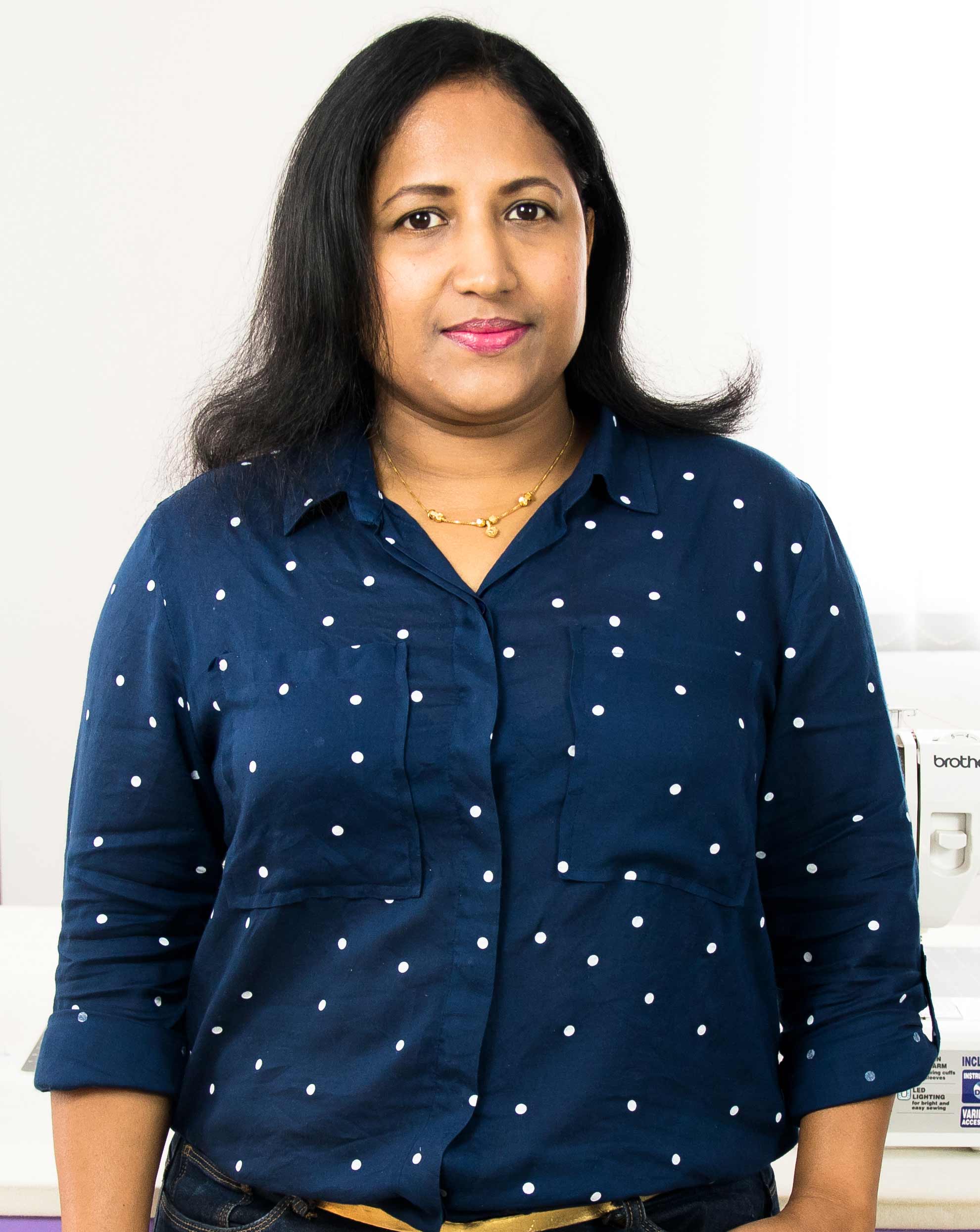 4421 Students
66 Courses
Savitha
Instructor Profile
Ms. Savitha has been conducting classes in Pattern making and sewing since the year 2010. She started with her Online classes to reach out to more students. Her words, "I love sewing and teaching and I have been lucky to be able to make my passion, my profession. I try my best to simplify things and teach in a simple and easy way so that even beginners in pattern making and sewing are able to learn from our online classes and make their garments with professional finish".
Reviews

02-05-2017
Smitha mariam

07-05-2017
Nilofer shaikh
17-06-2017
Akshu
---
Classes you may also like